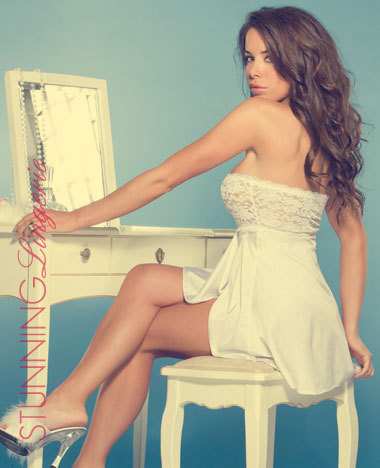 Wander through the lingerie section and you will discover that the babydoll lingerie is quite popular. You can find pieces of demure silk and lace, and there are also provocative sets. What is even more amazing about babydolls is they are less expensive than other types of nightwear. And so, it is possible to have your erotic undergarments and your comfortable styles too, with babydoll underwear.
For everyday nightwear, babydolls are cool and comfy. Some women do not like long nighties as they have a tendency to rise up as they sleep. the baby doll solve This issue. Lingerie choices these days are available in every imaginable material from silk to 100 % natural cotton. Lacy fabrics are not irritating to the skin anymore, but actually soft and gentle. Elastic materials are no longer stiff, but evenly flexible and satisfying. It is definitely a great time to be a woman when shopping for lingerie.
Babydoll lingerie carries an innocent but sexy appeal. When looking for new babydoll sets, decide first the message you wish to send to your partner. If you intend to be seen as a lovely princess, then pick a lace babydoll. Opt for a sheer babydoll lingerie if you are trying to get him to bed. Additionally, try checking out the adult lingerie collections on the internet for more naughty look of babydolls.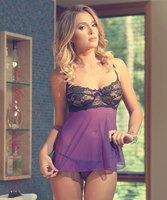 Gorgeous lacy babydolls are available practically everywhere from discount stores to high-class boutiques. The lace elements are commonly found in the bodice as well as at the bottom part of the babydoll and detailing the matching panty. Usually, lace is used in combination with satin or silk. Even so, some lace babydolls are exactly that; they are made out of pure lace material. The all lace sets are really comfortable and soft to the skin. Also, they give the other person an exciting peek of your body.
Sheer babydoll lingerie sets have transparent material in the garment. The bodice can be made from satin or lace,but it can also be sheer. The panties can be sheer or solid too. Sheer material is extremely sensual as it can be seen through with just a hint of a barrier.
The next time you go shopping for new sleepwear, consider the babydoll lingerie. The babydoll is a great way to be fun and sweet. Get rid of the worn out T-shirt and put a matching babydoll on. Your man will surely love it as much as you do.