In the past, plus size underwear had limited options. Bigger women were compelled to wear industrial bras and granny panties. Thankfully, times have changed. Plus size lingerie is now available in many options. Aside from beautiful bra and panty sets, there are bustiers, corsets, teddies, chemises and babydolls in attractive designs. If you are already tired of wearing granny panties, it is about time to discard them. You now have plenty of options when it comes to full size underwear.
Flaunting Your Assets
No matter the size of the woman, there are certain parts of her body that she considers her assets. When shopping for your lingerie, make an honest assessment of your physique. Find the underwear that accentuates your positive areas, and downplays the parts that are not so appealing. As an example, if you are proud of your breasts yet not so happy with your buttocks, opt for a push-up bra and boyshorts. Also, remember that a corset or chemise can offer you coverage in just the right parts of the body. You can also put on satin kimono or robe over your matching bra and panty sets.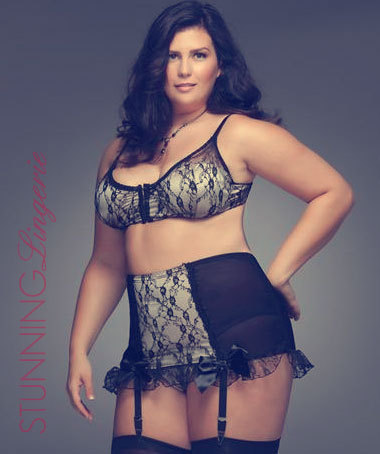 Using Your Advantage
Larger women can wear certain styles that may not look good on smaller women. For example, bold prints and elaborate details would look more wonderful on a full size woman than to a smaller size woman. In addition, attractive corsets are best suited for plus size women.
Accepting Your Size
Purchase only the undergarments with the size that you are in now. In case you hope to be thinner in the future, buy small size underwear later on if ever your size changes. As for now, enjoy the size that you currently have. Buy lingerie that fits you perfectly and makes you feel sexy too. You do not want your closet to be full of undergarments that are too small for you.
Asking Help
If you think you need help in finding the right plus size lingerie for you, work with an expert salesperson. She can help you figure out your assets as well as your problem areas. She can give suggestions on how to enhance or conceal some body parts. She will be able to know the ideal combination of plus size lingerie for you.
Another way to shop for plus size underwear is via the internet. The sites include their measurements, so you will know what size to choose. In these modern times, it is easy to enjoy and celebrate your curves. Women with full size body have a wide variety of plus size underwear. They come in various colors and designs. Simply make use of the available mode of shopping that is suitable for you.