Thongs are described as an undergarment, distinguished by a thin strap of fabric on the middle of the garment's back designed to rest between the buttocks. Thongs for women are categorized in forms and types, which include g-strings, v-strings, t-back and the classic thong.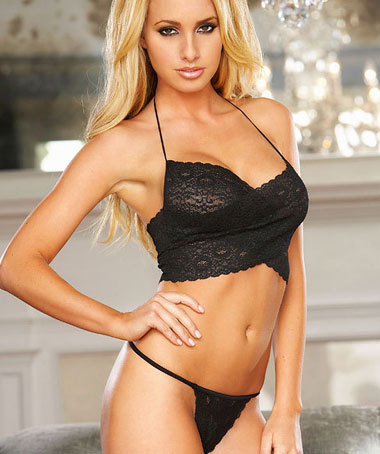 These sexy panties are also a wonderful sight on the beaches. Women usually opt to wear thong panties to get rid of the visible panty lines. They want to avoid the embarrassment of a ride up in public places, and more importantly, they like the element of comfort. Moreover, the whole notion of fashion awareness and reduction of tan lines push women to wear thongs.
Women have the freedom to select their sexy panties starting from the stylish thongs that are great for a special evening, or to simply attract the new man in their life. There are attractive and sensuous thongs made for pleasurable moments combined with tease. When it comes to convenience and comfort, the thongs is a safe bet that would also accentuate to her preferred fit of jeans.
Regardless of form or function, thongs are a favorite items in the lingerie drawer in many women. The thongs are once the domain of provocative, erotic performers, but are now the lingerie preferred by everyone from young adults to mature women. For those who have not worn thongs, these skimpy panties can be a bit uncomfortable at first. Riding high around the hips and leaving the backside totally exposed, the thong may look tacky yet have gained considerable recognition during the last decades.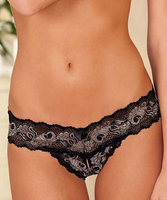 Thongs function as a sexy substitute for teddies, and are great addition to babydolls and corsets. When paired with attractive bras, they create an alluring lingerie set. Additionally, these types of panties make a daring fashion statement beneath low rise jeans for the young and bold. Men too, really like to fantasize seeing their women in revealing, sexy panties.
Bottom baring lingerie such as the thongs come with an A-list of styles and types to their credit. This barely there underwear is for the daring and most confident individuals. When people talk about "butt floss", they are actually thinking about a g-string. But, if you like more coverage than what is provided by a g string, you can choose T-back thongs. The side straps comfortably stretch directly across the top part of the buttocks; which resemble the letter T.
There are other choices of thongs and the collection varies from classy to casual to ultra sexy. Pick out your choice and put your fantasies into action.