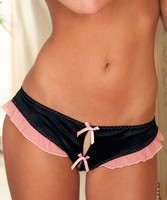 There are more than enough choices of sexy panties out there. Gone are the days when the popular underwear is the granny cotton panty. Today, it is easy to select the style of your lingerie based on your attire or mood. There is a wide array of fabrics, cuts, designs and colors. You really do not have a reason anymore not be sexy in your panties.
The ability to shop on the web also offers more options with regards to finding the right underwear for you. The following are some types of sexy panties that you should start collecting.
Bikinis
The bikini has a high cut on the thigh and low cut on the waist. It provides full coverage for the buttocks. It is considered the sexier and more feminine version of briefs for women. The bikini is a popular type of underwear that one would wear especially at the beach. This panty is also ideal for low rise pants as it does not reach to the belly button. Generally speaking, the bikini is the most favored style of panty among women worldwide.
Boyshorts
These are another type of briefs, only cut longer on the thigh. Boyshorts are body-hugging, extremely short shorts. Despite their name, they cannot be mistaken for a regular pair of shorts. Boyshorts are usually trimmed with lace in very cool colors and patterns. These panties are comfortable, playful and sexy.
G-Strings and Thongs
Most people often refer to these two panties at the same thing. Both types of panties are sexy but there is a slight difference between them. These sexy panties have the same small patch of fabric at the front, and a tiny strip of cloth between the buttocks. However, the G-String has a narrower strip than the thong.
Many women prefer to use thongs and G-String because the buttocks are exposed. This really creates an alluring look and feel. Not to mention that is also drives men crazy. On the other hand, most women find these undergarments extremely uncomfortable to wear because of the strip at the back. But if you want no panty lines under your clothes, then a thong or G String is the perfect choice. They look stunning when paired with babydolls, chemises, busteirs and teddies. These types of lingerie usually come with a matching sexy G-String or thong.
Those are just some of the sexy panties that you should add to your lingerie collection. They are a bit of a tease because of their cuts. You will definitely feel sexy and beautiful, even you are the only one who sees them.