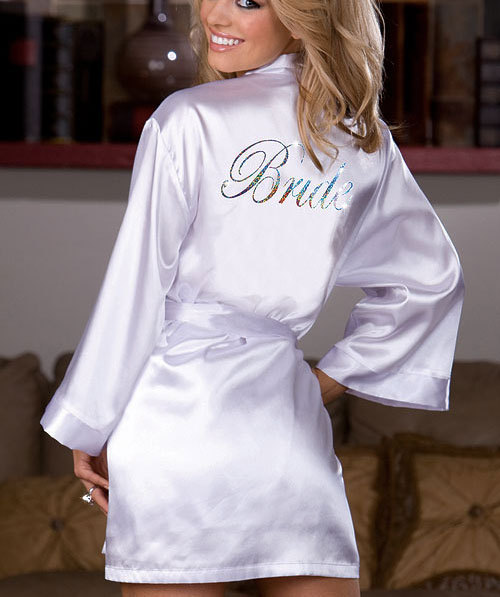 The combination of art, elegance, and Oriental style clearly makes for the satin kimono robe an East-meets-West design. Women love to wear them as a bridal robe, bridesmaids' robe, resort wear, lounge wear, travel wear, and so on. Because of their statement-making designs and silken fabrics, they are very comfortable plus easy to wash and wear. These satin robes are suited for all climates and seasons as they are so lightweight and easy to carry. In fact, these kimono robes are surely at the core in the wardrobe of every modern woman as an everyday essential or style choice.
When Shopping for Your Bridal Robe
There is a treasure trove of bridal kimono robes that are just waiting to be found from numerous lingerie shops and online stores. What is best about these satin robes is that the majority of them are created with a lovely and durable designs using fine silk, and the rich, vivid colors plus the luxuriously soft and glossy characteristics of the fabric.
Shop for satin robes that are made from pure silk, or something which mimic the appearance and feel of fine silk. If you like the typically expensive kimonos of today, choose those with floral designs which are made like the most exquisite Tomisodes or Furisodes. You may opt for Chinoiserie by picking satin robes that come with a stunning embroidery of Asian flowers, the Chinese dragon, and various Asian elements, which make them timeless lingerie pieces.
Shopping for the Right Size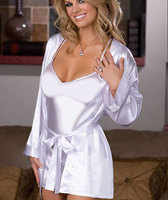 Take advantage of the different sizes readily available for modern bridal robes at the correct size, or maybe in a size which can be easily changed, especially when their hemlines reach down to the floor. A nice-fitting satin robe must be able to wrap your body comfortably, while creating a wonderful V-style overlap for its collar and sash capable of being cinched around your waist. It also keeps the long and vertical stitches on the sides of the gown straight.
Kimono robes have proven, over and over again, that they are a timeless apparel by being able to survive both time and fashion styles. Slip into your bridal robe at the start or end of your day during your honeymoon. Make it at the top list of your bridal garments and travel accessories, and take pleasure in its Western-meets-Asian style and the luxury of comfort that it provides. After your honeymoon, you can wear your silky robe whenever you like, considering that it suits just about every lifestyle.