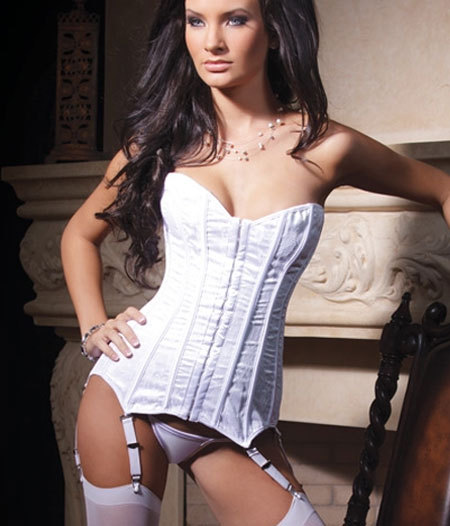 When talking about a wedding corset, we tend to visualize a woman dressed in a white wedding gown. If it is a corset, it is like the bride is wearing something sexy and naughty beneath a dress as a way to surprise the groom on the wedding night. Bridal corsets can be strapless or come with spaghetti straps, or a one inch strap. They are commonly made from satin or lace materials.
If you are the bride-to-be and have been considering a wedding corset, then decide what type you would like to wear. There are some types which are mainly used for functionality. It means that they can give your cleavage a lift, make the waist look tinier, and help you stand straight.
You can also find those that create a more enchanting look underneath the wedding dress. They are pretty much all frills, satin or lace. They are designed to boost and tighten the appropriate parts of the body. Additionally, these also serve as a stunning honeymoon ensemble. These types can have sequins, beads or other nice accents. After all, every woman wants to look exquisite on her wedding day.
A bridal corset could have hooks, zipper, or lace to attach them together. Most of the corsets are over bust rather than under bust. It means that the top part of the corset covers the breast area unlike the under bust that extends just below the breast area. A lot of them come with tabs to connect to thigh high stockings or garter belts. These tabs are usually concealed in case you decide to wear pantyhose instead of a garter.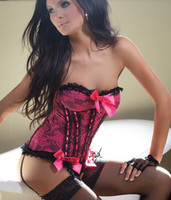 Colors are available for your choosing. The classic white is still as popular as before. But you can select any color that you want. The objective is to pick a quality product corset that meets your budget. You may look up on various online sites and find the corset that is just perfect for you.
When shopping for your wedding corset make sure to order the correct size. A shop or site will help you regarding how to choose the right sizing. This would be about 5 inches smaller than your present waistline. Do not get the wrong idea that you can shrink your current waist down to 10 inches smaller.
Selecting a wedding corset is all a matter of taste, but stay within reason so as that the wedding corset can highlight your natural beauty and not restrict your breathing. A bad choice of corset will likely make you look misshapen.